Past Sales/Previous Home Sold
Eddy Chen | EXC Group's success with helping Buyers and Sellers continues to be the result of their extremely talented and highly trained agents who serve with pure dedication and passion to help people with their real estate needs. Over the years, the group closed thousands of transactions all over Southern California and nearby cities.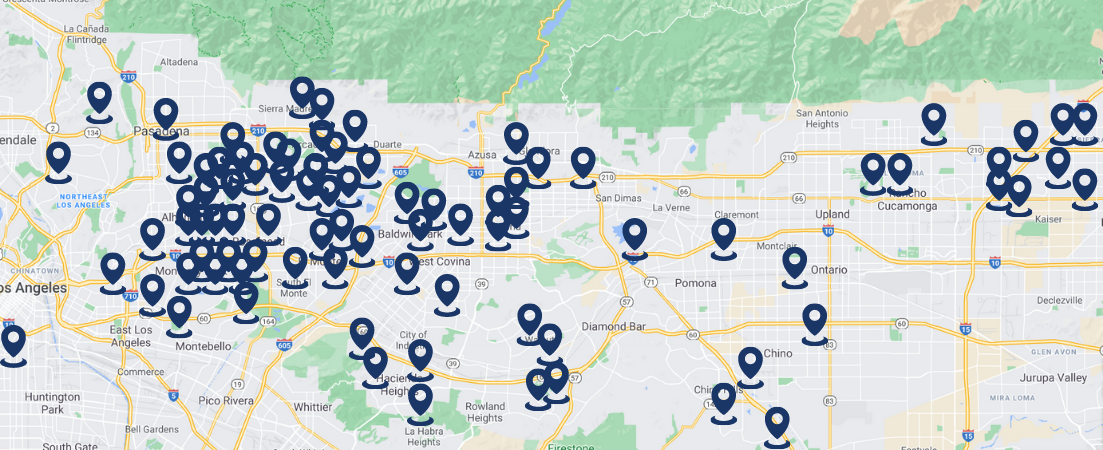 Testimonials
See what our past clients have to say about their experiences with Eddy Chen | EXC Group:






I Highly recommend working with Eddy Chen. He is the consummate real estate professional. Eddy is very knowledgeable about the real estate market and marketed our home successfully online and via his extensive real estate networks. Eddy and his team helped prepare our home for proper showings and had a professional photographer in to capture the most amazing images of our home. Needless to say, the images and the house showed very well. Eddy negotiated multiple offers well above asking price. Personally, I think that Eddy was the perfect real estate agent for our needs. He took the time to get to know our family and the specific needs around selling a home with a busy family and managed it all very expeditiously. He made easy work of what could've been a very challenging sale. Give him a call today and you'll be impressed by what he can do for you, too.
Tavo Casado






We had the pleasure of working with Eddy Chen while purchasing our new home. It took us a while to find a place that both my dad and I liked, and Eddy was extremely helpful and patient with us throughout the whole process. Buying your first house can be stressful at times, but Eddy was knowledgeable and guided us through everything until the very end. We felt very comfortable working with him because we could trust him to get things done. I would highly recommend him if you are looking to purchase a home, and we will most likely use him again when we are ready to purchase our next place. Thanks Eddy!
Zico Woo






Eddy Chen is a well experienced and very good real estate agent I met when I was searching for my home. He understands all real estate markets in Southern California and helps me to search for best location to raise my family. He answers questions and provides solution for all concerns, issues, and doubts in a timely manner. Eddy Chen is very detail oriented but down to earth person. In my home buying experience, I feel he always put himself in my shoes to work at my best of interest. It feels like he is buying home for his family and himself. His helps me to save a lot of time to search for best home, get mortgage, negotiate offer, and all the buying processes from beginning to finish so I can still focus at my work and family life. I really want to thank Eddy Chen! You are a trustworthy and excellent real estate agent and now also a truly good friend!
ddy88






Very professional, very truthful, very helpful, and trusting. Our experience with him and his team was above board. Also if you are 55y/o and older, and you are selling and buying a new home, there is a prop 6090 that allows you to take your old property taxes to your new home. And Eddy and his team have personally walked me thru, and that make it very easy for me. I highly recommend him.
Gary&Evelia Rosriguez






Superb is not enough! My family had the pleasure of setting up a new lease with Eddy. After dealing with some non professional Realtors, I was pleased to do business with Eddy. He showed every family at the Open House equal attention they deserved, while multi tasking to accommodate everyone needs. I hope he is our agent when we are ready to purchase our next home! Thank you!!
Terrence Scranton






EXC Group really goes above and beyond for you. Eddie is extremely professional and is very clear and concise about the information he gives you. I felt very comfortable dealing with them and look forward to working with them in the future!
Cecilia Britton






Check it out for differences in professional!
Eric P. Lee






We have been long for our home for almost a year with different agents. For some reasons our offer never get accepted. We met Eddy and he was able to get our VA loan approved and find a perfect house for my family. We are very satisfied with his effort and hardwork and will definitely look for him again to buy or sell our house.
chrisagr55






Eddy Chen is a very trustworthy and reliable person. We have been thinking to buy a house for many years. It took us awhile to search for our home but until we met Eddy. He find the home exactly what our family is looking for and within our price range within 2 weeks. I will refer him to all my friends and families
yu66






Eddy helped us to buy our first investment property. Eddy was able to explain and suggest different neighborhoods for us. He was able to negotiate a very deal for us. We are also very happy that our rental property lease out more than our asking price within 1 week. Eddy is a very good agent and I will recommend him to anyone I know.
dwgg7474






Eddy Chen was outstanding. We encountered many issues to purchase a home. He was always there to help us to solve the issues. It was my pleasure to know him and thanks a lot for helping us to purchase a home.
zuser20141202094059825